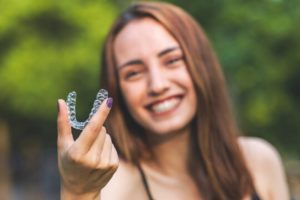 Invisalign is one of the hottest cosmetic treatments around! These awesome aligners are able to correct crooked teeth in a convenient and subtle manner. And when compared to traditional braces, they're much more comfortable to wear! That said, Invisalign doesn't come without complications and some patients struggle to stay on track with their treatment progress; after all, wearing your aligners every day is a big commitment. Here are some tips to keep your treatment on track if you've noticed yourself beginning to slip up lately.
Why Aren't My Teeth Moving Like They're Supposed To?
Straightening your teeth requires a good bit of time, effort and money, so it can be a little frustrating to find that your Invisalign isn't tracking. That said, there are many potential reasons for this, some of which are in the patient's control and others that can't be influenced. Sometimes, teeth are simply stubborn and refuse to move as intended, which can cause delays in the treatment timeline. Other times, a patient might be unable to follow their Invisalign guidelines or cause damage to their trays, both of which can hinder the process. In any case, maintaining your treatment's optimal circumstances will provide you with the best shot of obtaining your dream smile!
Tips for Maintaining Your Invisalign Progress
Here are some useful tips to help you ensure that your aligners are able to give you a straighter and healthier set of pearly whites:
Wear your aligners for 22 hours every day; this is perhaps the most vital aspect of your treatment, as your trays can't do their job if they aren't being worn!
Keep tabs on your aligners by storing them in their carrying case when they aren't being worn, such as when you're eating or cleaning them.
Advance to new trays as instructed, typically every 10 – 14 days. Doing this before bedtime can help to minimize the discomfort you experience.
Use Invisalign chewies to ensure that your trays are fitting properly against your teeth. Also, be sure to keep up with your chewing exercises.
Set a timer when your trays are out to help you adhere to your wear time.
If it feels like you're starting to slack with your Invisalign treatment, don't panic! There's still time to turn things around, and following these tips can ensure that your trays ultimately do their job.
About the Practice
The team here at Simply Orthodontics Worcester is ready to assist you with achieving the smile of your dreams! Our skilled team is led by Dr. Ben Smith and Dr. Sam Alkhoury. They're pleased to offer a wide range of services including orthodontic options like Invisalign. If you have any questions about the article or would like to arrange a visit with us, feel free to visit our website or give us a call for additional assistance: (508) 757-3173.