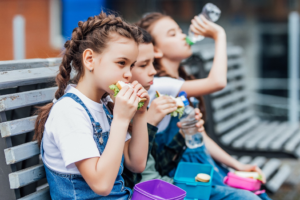 If you had braces when you were younger, you probably remember the long list of dietary guidelines and restrictions that you were supposed to follow—and perhaps many of your favorites, including fresh popcorn, crisp apples and carrots, and many other items were entirely off-limits! The same goes for your child if they have braces, which means that as a diligent parent, you should want to help your little one stick to the rules and avoid setting back their orthodontic progress. Here are some braces-friendly lunch ideas to inspire you!
The Importance of Following Dietary Guidelines During Orthodontic Treatment
Braces are perhaps the most tried-and-true of all orthodontic treatment options; countless generations of patients have worn the metal brackets and wires and achieved straighter and healthier smiles. However, in order to successfully undergo treatment, patients need to follow a particularly strict set of dietary guidelines—but why is this?
The answer is simple—there are several types of foods out there that pose a serious threat to orthodontic treatment. Certain items are actually so tough that they can cause damage to the metal brackets or even snap one of the archwires. Other foods are exceptionally sticky and can easily become lodged between the teeth and braces. And to make matters worse, some items are simply so bad for your oral health that if you eat them with braces, you'll have a remarkably difficult time maintaining a clean mouth.
Braces-Friendly Lunch Ideas Your Kid Will Love
It's not always easy finding things that your child will eat—especially if they're a particularly picky eater. However, it's best to prioritize their orthodontic treatment and provide them with options that aren't just tasty, but safe for their braces! Here are some great ideas to consider:
Tuna salad, chicken salad, or egg salad sandwiches
Sandwiches with sliced lunch meats like turkey, ham and bologna
Peanut butter and jelly sandwiches (avoid chunky peanut butter)
Soups, broths, and chilis
Salads (without the crunchy vegetables or croutons)
Pasta, rice, and quinoa
Steamed vegetables
Smoothies and protein shakes
Foods to Avoid When Packing Your Child's Lunch
Of course, there are all kinds of foods and drinks out there that pose a serious threat to your child's braces, and they should be avoided. Be wary of the following:
Apples
Carrots
Corn on the cob
Popcorn
Shelled nuts
Tough meats like beef jerky
Hard bread, rolls and pretzels (especially those with seeds)
Hardy and chewy candies (jawbreakers, lollipops, licorice, taffy, etc.)
Sports drinks that are high in sugar content
You shouldn't feel stressed out about helping your little one adhere to their dietary restrictions while they have braces; with so many accessible options, it should be relatively easy to avoid problematic items and provide your kid with all of the tasty nutrition they need!
About the Practice
Simply Orthodontics Worcester is thrilled to serve the dental needs of patients in and around the Worcester, MA area! We offer a comprehensive range of orthodontic services that are certain to help you and your loved ones achieve optimal oral health and dazzling smiles. If you have any questions about our services or you'd like to schedule a visit, don't hesitate to contact us online or by phone today! Telephone: (508) 757-3173.